BLOODGENETICS at EHA22- Madrid 2017
BloodGenetics team attended the 22nd European Hematology Association (EHA22) International congress in Madrid on 22-25th June 2017. During this meeting, Dr. Tornador and Dr. Sanchez promote the company with a dinner at the restaurant " La Zamorana" (very good food and very nice restaurant private room!) attended by medical doctors, investors and representative of patients' associations. We would like to thank the support to everyone that assisted to this dinner!
At the EHA congress, Beatriz Cadenas presented a research work on Sideroblastic Anemia and YARS2 mutations done in collaboration with Josep Carreras Leukaemia Research Institute (IJC) and the Hospital del Mar (IMIM).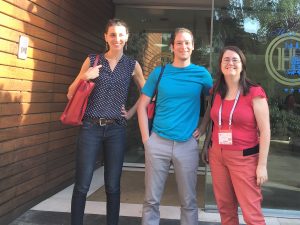 Beatriz Cadenas, Dr. Cristian Tornador (CEO) and Dr. Mayka Sánchez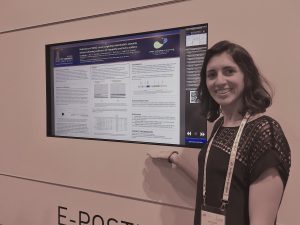 Beatriz Cadenas in front of her selected electronic poster: "MUTATIONS IN YARS2 CAUSE CONGENITAL SIDEROBLASTIC ANEMIA WITHOUT SHOWING EVIDENCES OF MYOPATHY AND LACTIC ACIDOSIS"